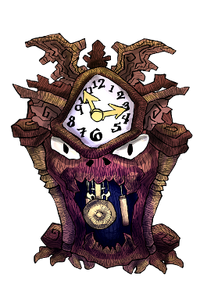 "Rumor has it that an orphan named Cyndar was deposited on the steps of Edgewood alongside a magnificent grandfather clock. Although none of the groundskeepers could get the clock to start, the Administrators declared that it deserved a place of honor at the center of one of the largest halls in the manor.
No one noticed the thin chain that gradually emerged from its front compartment over the years, wrapping itself around desks and tables and extending through the air ducts that linked one room to another. The grandfather clock started at the instant it hooked around Cyndar's foot, dragging him horribly through the house before he was pulled into the machinery. The Administrators deny almost every element of this story, but also refuse to tell students what actually happened to the clock in the main hall."
Achievement
Edit
Time Waits for No One
Defeat Cyndar's Timekeeper without using a Time Bubble
Unlock: Regret
Description
Edit
Cyndar's Timekeeper is a Chapter 2 boss found in the dorms.
The boss appears as a large, stationary grandfather clock in the center of the arena. The boss alternates between two distinct phases. During the first, several rows of gears will spawn and rotate slowly around the arena. While above a third of his health, all of these rows of gears will rotate clockwise. Each row has one gear missing, allowing you to dodge through it. However, the missing gears will periodically switch places during the fight, so pay attention to where you're standing. While lower on health, more rows of gears will spawn, and some will rotate counterclockwise.
Cyndar's Timekeeper's second phase is heralded by a large clanging sound. During this phase, the rows of gears vanish. However, gears will begin fading into existence in random spots of the arena. Coming into contact with any of these will deal damage. After a short time, the gears vanish, but they fire a small ball of flame at you during their departure. After a while, Cyndar's Timekeeper will revert to its first phase.
In both phases of the fight, several large, blue bubbles will spawn around the arena, with a maximum of two at a time. Standing in these bubbles will cause time to speed up. This means that the Timekeeper's attacks will come at you faster, but you also shoot and move faster. Use these only if you can dodge the boss' attacks effectively.
WARNING: OPENING THE CHARACTER INFO SHEET WHILE INSIDE A SPEED UP BUBBLE MIGHT MAKE YOU UNABLE TO SHOOT AND WILL MAKE THE COOLDOWN OF YOUR ACTIVE ITEM STUCK AT 0 SECONDS FOR THE REST OF THE LEVEL. 
Hard Mode
Edit
During Hard Mode this boss spawns bubbles that slow down time instead of speeding it up.