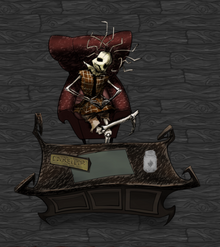 You can visit the guidance counselor between games in order to seek advice. Not that you'll get any, because it's just a lifeless scarecrow slumped behind a desk. There is a credit donation jar, however.
Donating credits to the guidance counselor may grant you some benefit — these range from unlocking new lessons, to extra periods, to starting with more of some consumable. Every other donation will give you a benefit. Each time you recieve a new benefit, the price of donating to the Counselor increases.
List of Guidance Counselor Counsel
Edit
Ad blocker interference detected!
Wikia is a free-to-use site that makes money from advertising. We have a modified experience for viewers using ad blockers

Wikia is not accessible if you've made further modifications. Remove the custom ad blocker rule(s) and the page will load as expected.