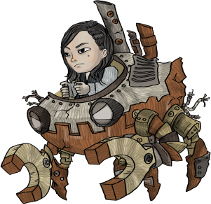 Hovercrabs are an enemy from The Gifted faction that appear on the Terraces. As the name implies they are levitating enemies. They have 3 objects, (usually pans, ladles, shovels and hammers) orbiting around them that will block attacks, similar to the Swirler's chairs (however, unlike said chairs, they cannot be destroyed by prop-breaking attacks).
Hovercrabs attack by chasing you and dealing contact damage, occasionally shooting out 3 projectiles (indicated by raising its claws) in a cone shaped pattern.
Leader variant
Edit
Its seems that leader hovercrabs have two behavior patterns: they either just chase player or shoot as fast as they can. Also they shoot thrice in a row.
Leader names:
Edit
The Unparalleled Park
M P Lodestone
Magnetic Mary
Hard mode
Edit
Hard mode hovercrabs shoots more often and prepare shots faster.
Ad blocker interference detected!
Wikia is a free-to-use site that makes money from advertising. We have a modified experience for viewers using ad blockers

Wikia is not accessible if you've made further modifications. Remove the custom ad blocker rule(s) and the page will load as expected.