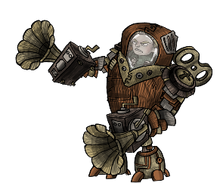 Soundsuits are an enemy from The Gifted faction. They will wander around the room and occasionally shoot 2 barrages of floating musical notes (5 from each arm) in Cordy's direction. The notes will damage and confuse Cordy upon hitting her.
Leader variant
Edit
Leader soundsuits will shoot 6 notes from each arm and also create two pink note clouds upon the end of their attack. The clouds will fly around in a manner similar to the schooner of nightmare's whirlwinds and will be replaced with new ones after the soundsuit's next attack.
Leader names:
Edit
The Perfidious Prodigy
Ad blocker interference detected!
Wikia is a free-to-use site that makes money from advertising. We have a modified experience for viewers using ad blockers

Wikia is not accessible if you've made further modifications. Remove the custom ad blocker rule(s) and the page will load as expected.