The Tell-Tale Extra Heart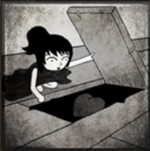 "She's not going to eat that, is she?"
This perk resurrects the player with full health immediately after dying. The player will be revived at the exact same position they died in.
The book's name is based on "The Tell-Tale Heart" by Edgar Allan Poe.
Due to how resurrection in game works, extra lives isn't compatible with Non-renewables class. Taking this perk during Non-renewables run will be just a waste of health.