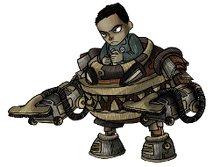 Vaccumbots are am enemy from The Gifted faction, that appear on the Terraces. They attack by creating whirlwinds that move around the room, slightly honing in on Cordy's position. The Vaccumbots create whirlwinds two at a time, and the whirlwinds can destroy props just like those of the Schooner of Nightmares.
Leader variant
Edit
Leader vaccumbots also cause gale winds to blow around, pushing you randomly (similar to the Winged Overseer boss fight).
Leader names:
Edit
The Quiet Questioner
Quarrelsome Quinn
The Quoted Quotient
Ad blocker interference detected!
Wikia is a free-to-use site that makes money from advertising. We have a modified experience for viewers using ad blockers

Wikia is not accessible if you've made further modifications. Remove the custom ad blocker rule(s) and the page will load as expected.